Special Internet Room Rates
All rooms are en-suite and have controllable thermostatic central heating, multi-channel LCD TV's including DVD players, direct dial telephone, radio alarms, Tea & Coffee making facilities, hair dryers, full length mirrors, hot water bottles.
Prices include all taxes (VAT), Full English & Buffet style Breakfast
For the best Discount deals, last minute offers & late rooms on booking Bed & Breakfast (B&B) accommodation click here
Rates may vary online dependent on season & availability. Please check online for most up to date prices with standard extra special offers below
B&B Tariffs
Bed & Breakfast Special Tariff 2015

Per Room Per Night

Single room with shower & toilet

£75.00

Double room with shower, bath & toilet

£105.00

Additional bed per room per night

£21*

* Price for Children 12 years and under and includes full English breakfast & VAT.
Sorry we do not take Saturday night only bookings.
However rooms may be released on the Internet. This is dependent on the relevant Saturday's availability, and will only be released a couple of days before.
Please see our terms & conditions before booking.
Dinner Bed & Breakfast
The Old White Lion has extensive dining options & believes in customer choice.
We therefore do not have a set Dinner B&B Tariff, but believe that dependent on your day & mood you will make the right choice. We pride ourselves on the individuality of service to all our guests, finding many of them eating with us night after night.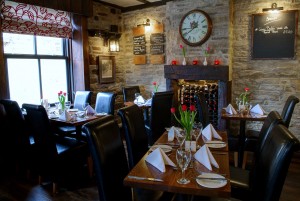 Keeping up with modern trends, without ignoring the popularity of old favorites. Featured in major food guides the Gimmerton Restaurant is open every evening.
We offer either an individually priced A' La Carte
Or
A set priced Three Course Monthly Menu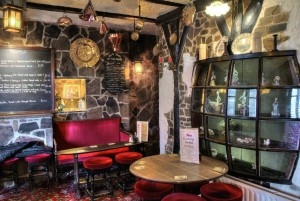 Two beamed bar areas, which were often frequented by Patrick Bronte the famous father of Branwel Bronte & his sisters and still serving traditional hand pulled ales and vittles. Relax with locals and visitors alike. Enjoy eating in Old World surroundings. The Old White Lion boasts to be probably the major food outlet in Haworth, specializing in home cooked food using fresh local produce, which encourages people to return time and time again.
The Old White Lion Hotel is an establishment where food and drink are taken seriously, and dispensed along with hospitality in good measure.
Gratuities at your discretion.