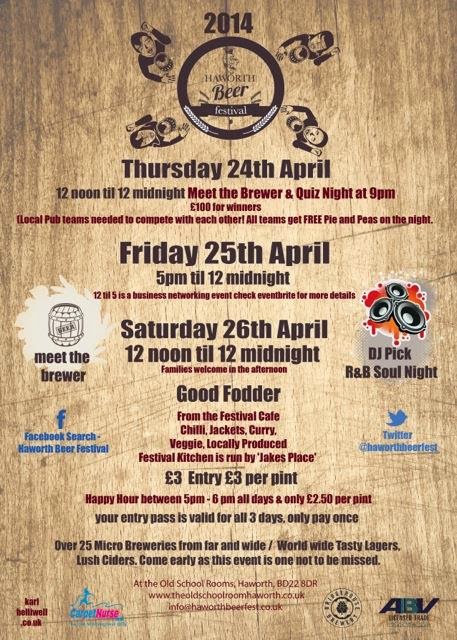 As I mentioned in my last post The Old White Lion is situated in the heart of all that Haworth has to offer. And over the next few months there are heaps of fun things you need to get yourselves involved in!

One of these being Haworth's annual Beer Festival…
This will be the third year that Haworth is hosting the much loved Beer Festival and it's only getting better! The festival is running from Thursday 24th to Saturday 26th and there's no doubt that it will be a jam packed weekend full of exciting events and over 30 real ales, ciders and perrys for you to experience.
The weekend will kick off on Thursday with a traditional Pub Quiz like no other at 9pm. It is being described as 'the Superquiz' and with the prize being £100 for winners, I can see why. But don't worry, everyone's a winner with a free Pie and Peas supper, yum!
The second day of this unmissable festival is running from 5pm til midnight and will be giving a warm welcome to all of you beer lovers! With a combination of great beer and great company, what more could you ask for?
And then, Saturday is here for a more family friendly occasion with children welcome during the afternoon. There will be locally produced food being served throughout the day from the Festival Cafe, so why not come along to grab yourself a bite to eat and drink?
Sound appealing? Well all of this can be found in the Old School Rooms, and with £3 entry for the weekend, you have no excuse to not join us for great beer, great company and amazing scenery!
For more details and to keep up to date with the Festival happenings visit their Twitter page here
Anyone fancy a pint?